Accoring to published reports, Yankees slugger Jason Giambi will not be punished for doing "that stuff."
ESPN.com
reports that:
The New York Yankees slugger has cooperated in former Sen. George Mitchell's investigation into steroid use in baseball and met with Mitchell and his team last month to answer questions about his experiences using banned substances. He agreed to speak with Mitchell after Selig threatened to discipline him if he refused to cooperate.

"Jason was frank and candid with Senator Mitchell," Selig said in a statement. "That and his impressive charitable endeavors convinced me it was unnecessary to take further action."
This is very interesting news to me for a number of reasons.
First, I have maintained that MLB/Selig will never do anything to past users because it is a huge can of worms that they do not want to open up. I would venture to say that over half of MLBers have used steroids at some point in the past, including big name stars.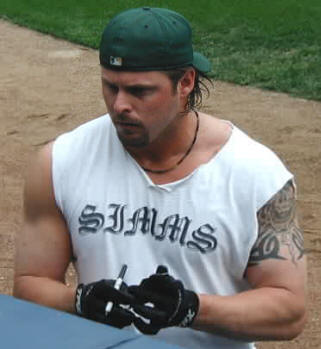 Second, this is yet another example that money buys forgiveness. If Selig is sincere in his remarks, it is quite clear that he believes charitable donations are enough to clear one's name of steroid use... that's right, no asteriks for Jason because he donated $50K to the RBI Club!
Finally, and most importantly, this is a tell tale sign that an asteriks will never appear behind Barry Bonds' names in the records books.
So because of this decision, does it matter if baseball players tell the truth or lie about steroids? Either way, they did them. And either way, the record books will not be noting that they cheated on the game.
More from the blogosphere:
The LoHud Yankees Blog
American Legends
The Biz of Baseball
Ballbug
Rumors and Rants
National Lampoon Splog!
Lattice of Coincidence